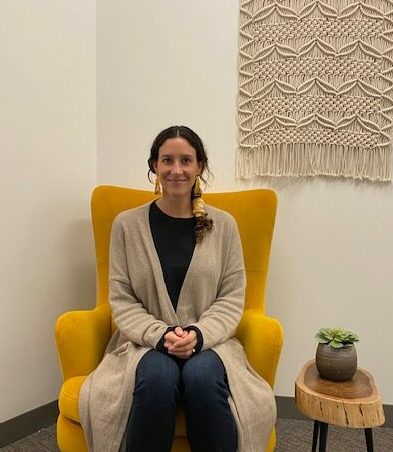 Leah Iracleous, Ph.D.c
At its core, I believe therapy is the work of retrieving of the soul. As we move through life, we are all affected by what and whom we encounter and oftentimes, parts of ourselves become fragmented and split off as a means of survival. The decision to commit to the therapeutic process can be a beautifully daunting one. Whether you are just beginning to peer into your inner world or have been gazing within for a lifetime, I will do my best to assess your individual needs and meet you in the therapeutic space accordingly.
My therapeutic approach varies based on your individual needs. I am depth psychology-oriented which means I tend to pay attention to the unconscious. The unconscious is the part of our psyche which is largely inaccessible by the conscious mind but deeply affects our behaviors, thoughts, and emotions. My work involves supporting you in making your unconscious conscious through noting body language, verbal and nonverbal cues, analyzing dreams and fantasies, and even exploring that which emerges within our therapeutic relationship as potentially reflective of other relationships in your life. In doing so, we are able to get to the core of deep-seated patterns that once likely developed and served you as a means of survival, but are no longer necessary nor beneficial.
I have worked with individuals experiencing acute mental health disorders such as schizophrenia, schizoaffective disorder, borderline personality disorder, post-traumatic stress disorder, and bipolar disorder as well as individuals experiencing more generalized anxiety, depression, grief, relationship difficulty, and life transitions. I have worked with people between the ages of eight and eighty years old from varying socio-economic backgrounds, races, gender identities, sexual orientations, and religions. It is of utmost importance that you feel respected and cared for throughout this challenging work. However, that isn't to say you won't feel uncomfortable at times.
While I believe there is something valuable to be gained from every relationship in one's life, I do recognize and regard the client-therapist relationship as a sacred one which requires a certain level of compatibility and trust. If either of us feel that we are not an appropriate match, I will commit to supporting you and referring you to someone more suitable.
My Background
I enrolled as a Ph.D. student of clinical depth psychology at Pacifica Graduate Institute in Santa Barbara, California in 2018 and completed my coursework in August of 2021. During my first year of practicum in 2019, I worked as a therapist at a non profit homeless shelter in Santa Cruz with people experiencing chronic mental health disorders. The following year, I worked as a therapist for a local community college. I have an educational background in social justice and critical psychology which I received at the California Institute of Integral Studies in San Francisco, California, and I am a certified yoga teacher.
Leah Iracleous is a Registered Psychological Assistant (94026400) supervised by Dr. Matthew Metzger, Licensed Psychologist (PSY25425)
Specialties Include:
Trauma
Anxiety Disorders
Mood Disorders
Grief and Loss
Couples and Families
Stress Management
Life Transitions
Internalization of Oppression
Get To Know
More Of Our Team